" i sampai dalam pukul 4 kot "
melirik ke jam, 1245 pm .
" i nak g jumpe u lah skang hahahaha "
fiuh . what a day .
without thinking any longer,
without taking any considerations,
left with a BIG QUESTION MARKS on everybody's heads .
left wif everything undone untidy in my rum .
i was wif him for 6 wonderful yet not enuf hours .
booohuhu teros belah kuar umah taw .
dgn uwang xberapa nak ada,
dgn tibatiba belah keluar rumah dan menjerit
" abah nak keluar kejap ! "
dan lajulaju drive ke jb sbb nak jumpe buah hati moamathemy .
hahahahaha
*sekarang aku dah pandai sweet talk taw !
anak2, sila jangan contohi perbuatan ini .
sangat tidak dirancang hanya tibatiba terasa mahu berjumpa dengannya
walhal, harini ada jemputan kahwin my kazen taw .
so sekarang ni, im in dilemma,
mahu balik utm ptg ni or esok pagi ?
SANGAT MALAS TAU .
*amboi, tibatiba drive to jb n pulang ke rumah drive malam2
which is 1hr away from jb rajin pulak ?
HAHAHAHAHA BIASALAH ANAK MUDA DILAMUN CINTA
*eyucks ! haha
oke testing testing 1 2 3 .
amek pic sendiri nak tgk muke cun ke tak mahu jumpe moamathemy haha
muke purapura cool padahal bila dah sampai skudai,
benti kejap dekat petronas pergi toilet touch up
he who had already arrived at sri putri called me many times
tp aku selamber lepak2 kat toilet petronas haha
*neves kot dah lame xjumpe ! bodo betul haha
aha , ini ler dia .
bila aku sampai aje kat sri putri,
zaki ( y tiba2 call aku ) terpakse mendengar jeritan aku terkejut melihat
moamathemy standing there accompanied by jee .
hahahaha oke, kenapakah ada jee ?
oh, accidentally they met n aku sgt blushing dgn jee melihat aku !
dgn moamathemy saiko2
" fuiyo mekap fuiyo mekap "
bodo betul haha malu siot . HESH .
oh lihat dlm akuarium !
ada dugung besa ! see ? see ?
haha itu adalah ikan tilapia yang bile aku mencangkung melihatnya,
rasa mcm mahu peluk gulingguling sbb besar gile !
cubaan pertama gagal akibat perbezaan ketinggian ya .
let the pro do the works ngehehe
oke, dah maghrib .
lets solat n we went to u mall for
KNIGHT AND DAY !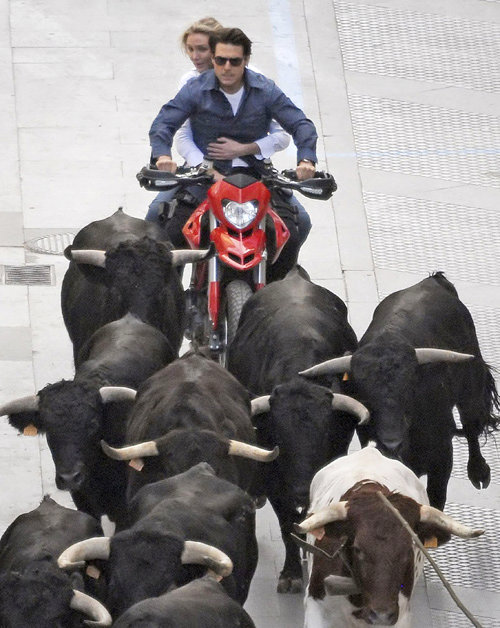 dis muvi is played by my two fav actor n actress
TOM CRUISE n CAMERON DIAZ
part ni i was like ...
haha sbb ade seladangseladang gabak yang merempuh segalanya tu !
n mlm td i reached home at 1115pm
aku drive mmg laju sbb takot drive mlm sbb lalu kubur cina
sbb ramai kena kacau dekat situ sbb takot !
haha ~
bile sampai umah i was like ...

PENAT GILER KOT
ha tu la kau, suka2 hati tak pikir panjang,
dah la barang xkemas lagi,
so kesimpulannya kau nak balek utm biler suhailah ?
NTAH !
HAHAHA
p/s :
jee, ape yang kau nampak semalam tu bukan aku tau !
tu kembar aku .
dia mmg macam tu .
suke lawalawa,
suke mekapmekap haha ~
*malu dgn jee*
oh lupe mahu ckp,
" u ni nk goda i ke ? u jadi leopard ni "
hahahaha
errr....